About Autograph World
Autograph World was founded in 1996 by JD Bardwell and Bob Jones. Previously, these two men owned and operated JD & Bob's Autographs from 1986-1990. Autograph World is a member of the UACC and UACC registered dealer 002.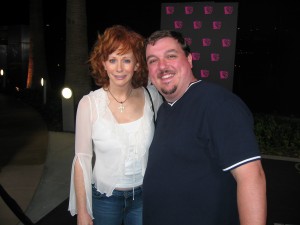 JD with Reba McEntire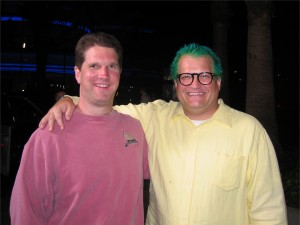 Bob with Drew Carey
JD Bardwell served on the UACC Executive Board for over a decade. He is a two time recipient of the Presidents Quality Award (1997 and 1999) and winner of the the 2000 Distinguished Service Award. The prestigious UACC Registered Dealer program was his invention and he serves as webmaster for the UACC site. JD currently resides on the Maine seacoast with his wife and three children.
Bob Jones has been a full-time dealer of autographs for over 30 years. During this time, he has formed strong relationships with some of the most respected in person collectors in both Hollywood and New York City. Utilizing his Masters degree in Computer Science, he designed and built the Autograph World website. Bob currently resides on the New Hampshire seacoast with his wife and three children.
In 2004 JD & Bob created the Signature Pieces premium auction website as a way to offer high end autographed items to their customers.